The type of food you eat affects your metabolic rate. Your body burns calories to absorb, digest, and metabolize your food.  This is called the thermic effect of food (TEF).
Fats, for example increase your TEF by 0-3%; carbs increase it by 5-10%, and protein increases it by 15-30%.  By trading some of your fat or carbs for lean protein you can slightly increase your metabolic rate!
Not only does your body need protein to help your muscles grow, it burns more energy to digest it. By working your muscles and feeding them what they need they can help you transform and maintain a lean strong body. (Want to learn more about how your metabolism works? Check out this article on metabolism.)
Which brings us to this delicious metabolism boosting, muscle building recipe.
Lemon Herb Roasted Chicken Breasts
Serves 4
2 lemons, sliced
1 tablespoon rosemary
1 tablespoon thyme
2 cloves garlic, thinly sliced (I love garlic!)
4 chicken breasts (boneless, skinless)
dash salt & pepper
1 tablespoon extra virgin olive oil
Preheat oven to 425F.  Layer ½ of the lemon slices on the bottom of a baking dish.  Sprinkle with ½ of the herbs and ½ of the sliced garlic.
Place the chicken breasts on top and sprinkle salt & pepper.  Place remaining lemon, herbs and garlic on top of the chicken.  Drizzle with olive oil.  Cover with a lid or foil.
Bake for 45 minutes until chicken is cooked through.  If you want the chicken to be a little more toasty, remove the lid/foil and broil for another few minutes (watching carefully not to burn it).
Easy, peasy!
Bonus: If you manage to have any leftovers you can slice and dice that shit and throw it in a salad!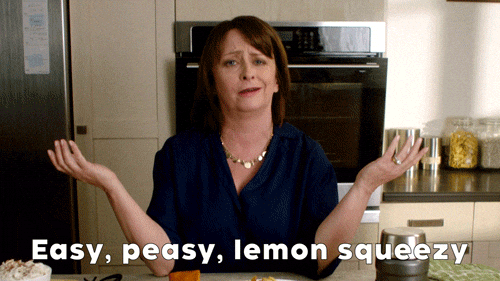 YouTube video coming soon!